A safe and supportive environment for your loved ones
At Charlton Grange, we provide a home for people who are independent but would like some residential support and care which includes assistance with washing and dressing. Everyone who makes their homes with us can have different care requirements and our person-centred approach ensures that all needs are met, no matter what they might be.
Nursing Care
Nursing care is about providing the best possible residential service with the added support and attention of nurses for health conditions that mean you or your loved one needs around-the-clock care.'
Our Nursing care support provides the same service as our residential care, with the added comfort of having 24 hours on-call support from a registered nurse. This service is suited to residents who have regular medical attention that would normally be provided in a hospital environment. Like all our team members, our highly skilled Nursing team go the extra mile in delivering an excellent standard of care.
Individually tailored treatment plans are created and used by all clinical professionals to keep records and regularly update loved ones on anything they need to know. The aim is to give reassurance to residents with long-term medical conditions with the goal of helping them regain their confidence after any setbacks and enjoy themselves in our little community.
Dementia Care
Dementia can be a difficult and emotional prognosis for residents and their families. At Charlton Grange, we are committed to providing the unique and highly skilled care that those living with memory loss require, in order to maintain a fulfilling, safe and dignified lifestyle.
What is Dementia?
Dementia is the term for a range of similar progressive conditions that affect the normal functioning of the brain. The brain functions by sending and receiving messages from nerve cells, or neurones. Dementia causes these nerve cells to deteriorate, making it harder for the brain to function normally.
There are many different types of dementia, with the most common being Alzheimer's disease and vascular dementia.
It is not a natural part of the ageing process, but the risks of developing dementia do increase with age. The symptoms are caused by physical changes to the brain and are unique to the individual.
Important Factors for Dementia Care
ENVIRONMENT
Dementia can make everyday activities and tasks seem overwhelming, but this can often be relieved by changes to the environment. As the perception of the world around them changes, a person may experience increased feelings of disorientation, often manifesting in anxiety and other feelings of stress. As a result, a spacious, safe and homely environment can provide comfort and allow greater independence.
Our home is designed with a focus on those living with dementia. Light is a factor that needs particular consideration; shadows and dark areas of a room can appear misleading and confusing, so we choose optimised lighting in order to eliminate these. By keeping things spacious and well-lit you can open up a room to encourage a safe, stimulating environment for your loved one.
Beyond the fabric of the building, if they wish to have a breath of fresh air, or soak in the sun, the easily accessible outside space allows residents the opportunity to enjoy the patio and garden areas surrounding the home.
MEALTIMES
We find that mealtimes are a great opportunity for social interaction and involvement. We ensure that our décor helps to stimulate appetite, whilst our carefully considered menus offer healthy, tasty and nutritious choices every day.
We know for some residents with dementia the process of eating and drinking can become difficult, but our fully trained team is on hand to ensure that all residents get the nutrition they need, this may mean using our smaller dining room that is calmer and more homely, which recent research shows can be encouraging for residents.
QUALIFIED TEAM
Our compassionate trained team are able to recognise signs of dementia and will assist with making each and every new resident feel at ease and cared for, while promoting independence. Any form of development of dementia will be communicated to the family and other relevant team members, to keep their care plan updated and ensure residents get the person-centred care they deserve.
FAMILY & FRIENDS
Strong relationships are fundamental to happiness and wellbeing, these relationships can be challenging for a person with dementia to maintain as memory and communication skills eventually fade. Maintaining close bonds with families and friends is actively encouraged, and visitors are most welcome at any time and can join residents in activities and for meals. Our carers can also offer support to relatives of our residents living with dementia by providing access to information and advice.
ADVANCE DEMENTIA WITH/WITHOUT NURSING
We offer a specialist unit for relatives who suffer from advanced/severe dementia with challenging behaviour please enquire if this is a service you require.
Residential care
Moving into a care home doesn't mean someone needs to leave their previous life behind. We support our residents to be as independent as possible, safe in the knowledge that we are there whenever they need us. Our round the clock dedicated carers offer support, provide personal care and are always on hand to lend a friendly smile and chat.
Many of our residents see their carers' as members of their extended family and it's that close bond they share which makes our home truly special. With our highly trained nurses on staff 24/7, we are able to care for people who have underlying health conditions. This means we can help administer medication and monitor vital signs in the comfort of their home.
As a family member, you can sleep easy knowing we've got it covered and are there for your loved ones if they need medical support. Our close relationship with other healthcare professionals such as GP's and occupational therapists, means we are able to prevent hospital admission unless vital for the care of our residents.
At the start of every family's journey with us, we work in partnership with them to create a bespoke care plan building a picture of not only the residents' health and wellbeing needs, but their emotional needs, likes and dislikes, and who they are as an individual. We know that it's the little things that matter the most. So whether it's something as simple as knowing they like a little extra sugar in their tea, to helping someone rekindle a much-loved past time; we are there to help them live life to the fullest.
Our residents are free to spend their time how they choose, and someone will always be around to help. Whether it's doing arts and crafts, a bit of baking, or simply relaxing in one of our communal spaces with a good book.
If the time comes for a resident to need further care, be that nursing or palliative, We have our own nurses that are in-house 24/7. We also work closely within the community to ensure we deliver the correct care for our residents in the comfort and privacy of their home with us – reducing the likelihood they will need to move or adapt to a new environment.
Palliative/End of Life Care
Palliative care is not just about managing the medical condition; it also involves taking a holistic approach to care as well as supporting the individuals loved ones during their visits'
Palliative care at Charlton Grange is focused on delivering care for residents with a terminal illness. Our team focuses on making residents as comfortable as possible through pain relief and emotional support. Our service can include access to national support organisations, spiritual groups, therapies or even regular support meetings with our highly skilled staff.
When residents are nearing the end of their life, we focus on providing them with the dignity and respect they deserve. We understand how tough it can be to visit a loved one during this time – and for us, it's not just about supporting your loved one, it's about supporting you.
Respite Care
Being a full-time carer for a loved one is a very demanding role. Respite care breaks are an opportunity for carers to take a break or simply spend some time looking after their own needs, safe in the knowledge that their loved one is receiving the very best care.
Respite care can be a valuable break for older people too – it's a chance to meet new people, enjoy a change of scenery and try out some new activities and experiences.
We tailor our respite stays to each person's individual needs and our nursing and care teams in supporting older people who have Alzheimer's and other forms of dementia, physical disabilities or restricted mobility, and conditions such as Parkinson's Disease and Multiple Sclerosis. Respite care can last for just a few days, a month, or as long as is needed.
We understand that it's the personal details that make a difference, even more so on limited or short stays. We take the time to get to know our respite clients before they arrive, so we can be sure that their stay gets off to a great start. Each respite client has a personal care plan that takes into account their support needs, interests, likes and dislikes, and daily routines.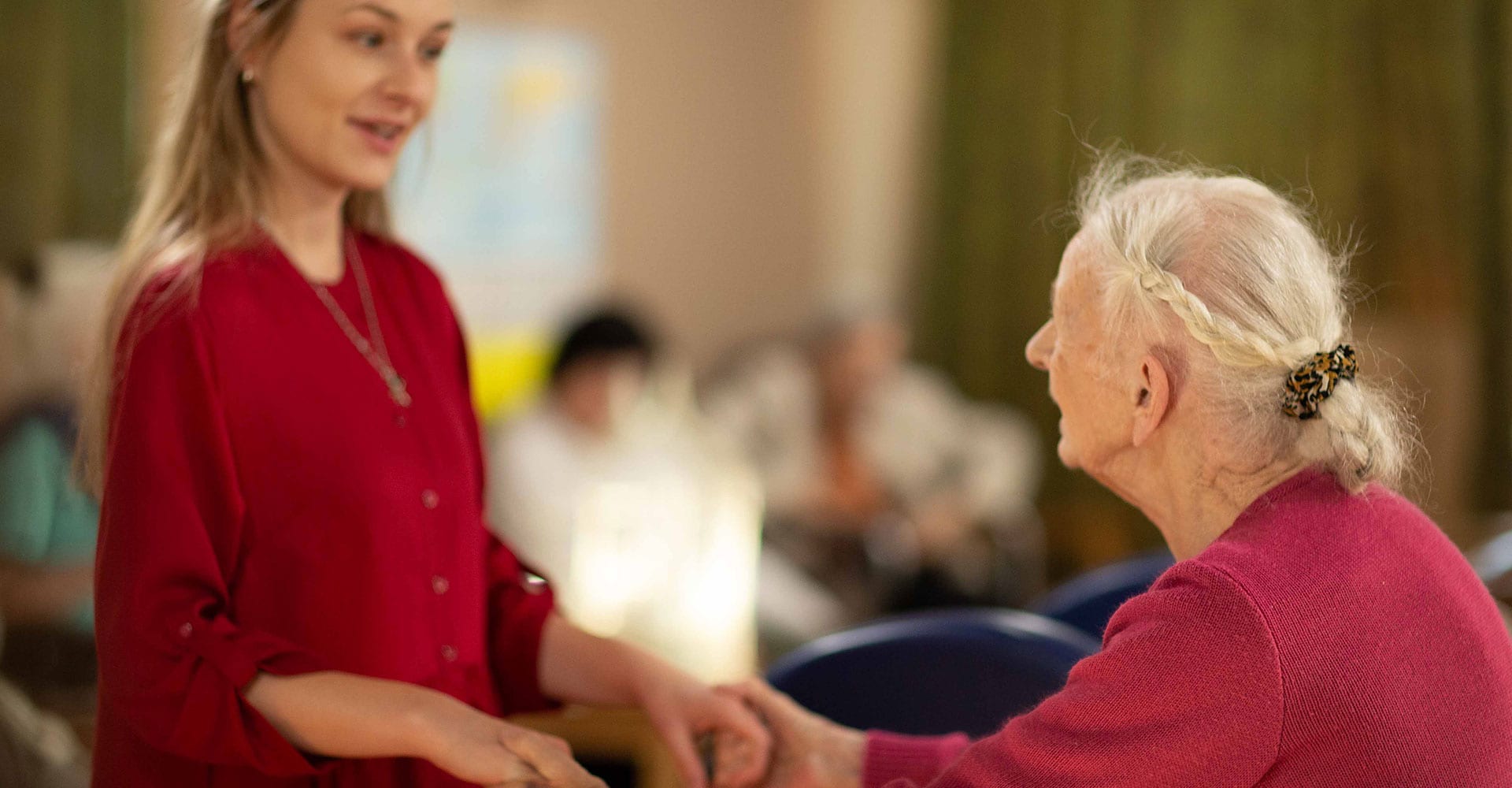 Would you like to know more or have any questions?
We are always happy to hear from prospective residents and families. Please get in touch if you have any questions!
Check out what our residents, Families, Co-workers and staff have to say
It has been good to work with Charlton grange, to build that professional relationship, and Joint working to ensure the individuals needs are met with a person centred approach. Charlton Grange have been good with communicating and staying in contact, and providing sufficient information when requested. Kulvinder has been very helpful and supportive.
Kelly Matthews - Social Care Assistant We are very happy with Mum's care at Charlton Grange. The carers are very attentive and kind to her. We are very impressed with the way they have coped with the Coronavirus pandemic. Keeping Mum and the other residents safe. Charlton Grange has a friendly atmosphere and we felt very at home immediately.
Tony & Sue Hillman, son & daughter-in-law Thank you to management and staff for all the care you gave to our dad and for looking after him until the end. Greatly appreciated.
Family of former resident Thank you for looking after Linda, the last few months were very difficult for myself and the family, but knowing that she was receiving excellent care has always helped ease any frustration about not being able to care for her at home. I would like to wish Daria and the team all the best and thank them for their compassion towards Linda and our family.
Husband of former resident I want to thank you for the excellent care that mum received from the management and all the care staff. I commend your care staff for their compassionate and considerate care of my mum. I would highly recommend Charlton Grange to anyone looking for the care of their elderly parents.
Daughter of former resident Charlton Grange is the best place I could have found for my aunt. We looked at many care homes around the area, and even trialled some for respite. Unfortunately, the other care homes really let us down. When we approached Charlton Grange, they were extremely helpful with the whole process.The staff are very caring, patient and attentive. Management are always on site to help and the activities are amazing!! There are exercise classes too- which means my aunt is getting out of bed and is really taken of. I have recommended Charlton Grange to many, and will continue to do so!
Kay Stevens
Family Member Since I have joined Charlton Grange, I have learnt a lot from the management, the rest of the team members and from every aspect of my job. I also appreciate the support whenever I need and the continuous encouragement at work.
Working with the residents is the great and just having a small chat with a resident can make their mood change. Making people smile is what really makes this job worth it.
Careworker
Charlton Grange Staff come in and see me and talk to me about my family. I really enjoy it when they stop for a chat.
Resident